The Perfumed plaque depicting the Madonna and child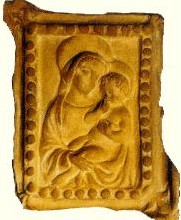 When the air, soil and public water supply at the Cenacle of Prayer had for some time been giving off perfume, the members of the Work of Love became more and more keen to discover the significance of this intense perfume that pervaded the whole place in May and the first weeks of June 1990. A further event seemed finally to provide an explanation to the phenomenon which, on top of all the facts already mentioned, could truly be called the "great sign" of Mary's presence. Why "great" sign? Because for everyone it was a cause for reflexion, meditation and intuition that Our Lady, by means of her perfume, was inviting people to see her apparitions at St Mar-tin's as being intimately connected with the fact that, in bringing us the Father's love, she was indicating that this "Love" was, in reality, Jesus Himself: Love made man for our sake.
And this Jesus is always to be found where she, the Mother, is. The mysterious chance find of a terracotta plaque, of uncertain date, representing the Madonna and the Child Jesus, possibly provided the answer. The plaque was discovered at around 10 p.m. on 26 June 1990,when a group of young workers of the Marian Movement, toge-ther with the visionary Renato Baron, had gathered for a prayer meeting in the park of the Cenacle; at the same time, other pilgrims were praying inside and outside the chapel.
Everyone noticed at that moment that the air be-came incredibly perfumed; not only that, the water coming from the taps had also taken on an intense perfume, as on previous occasions. But now there were noticeable currents of perumed air moving in a south-westerly direction. Because of this, the curiosity of those present led them to seek to establish the origin of the mysterious, unexpected perfume.
Thus, a small group of people followed the trail of the perfume and arrived at a ditch that had been dug for a methane gas pipe; they continued along the pipe until they reached an ornamental acacia. At that point the earth was very damp, but beyond it there was no trace of the perfume. So, with pick and shovel, they started digging, in a state of considerable emotion, and not far from the surface they came across something that, by its shape, appeared to be a terracotta tile.
They seized this find, almost intoxicated with the intense perfume emanating from it; they washed it at one of the outdoor taps of the Cenacle and, to their great amazement, found that they had before them a terracotta plaque measuring 26x36 cm, in a good state of preservation. The plaque depicted the Madonna with the Child in her arms.
From that moment, the phenomenon of intense per-fume in the air came to an end, as did, gradually, that of the perfumed water from the taps connected to the public water supply.
Learn more about these events at Reginadellamore.org

visionsofjesuschrist.com