Pender woman survives cancer, heart failure.
She doesn't fear the end after a series of near-death experiences. She said she once went to a room filled with everyone whose lives she had touched. Another time, she said she met her parents inside a ring of "tall warrior figures" protecting them from storms. She said she felt like she was given the choice to stay or go back to her life and "there was no wrong answer."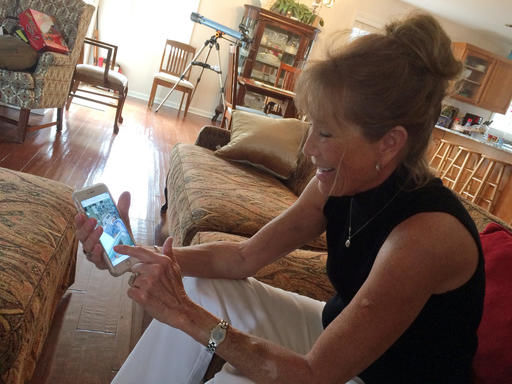 Above photo is of Kim Smith who talks about her journey of survival.
January 21, 2017 Reported [here]. Burgaw, North Carolina - It's Kim Smith's giggle that gets you.High-pitched and as rapid fire as a machine gun, it is immediately infectious. You smile as she scatters that laugh into her story about surviving two rounds of breast cancer and two heart replacement surgeries.
Let's back up, though. For one thing, seeing Smith walk, talk and laugh, a lot, leaves you flabbergasted that she left a hospital one year ago after receiving the third heart to pump blood through her veins. The one she was born with grew too large and failed. The second one, transplanted during a life-and-death autumn in 2015, also failed, meaning she would need a second transplant just a few months later. So now, Smith is on medication to handle her hemoglobin levels and looks forward to resuming competitive horse riding merely 18 months after dying for the fifth time.
"Ten minutes in a saddle is better than nothing in a saddle," she said shortly after describing why she rides horses despite arthritic pain that, because of her heart, can't be abated by pain medication. She didn't realize it when she said it, but she also summed up her outlook on life. She is amazingly optimistic, either despite -- or because -- she continues to exist despite being told more times than she count that she was going to die. "I can chit chat and be bubbly," she said. "But I do get tired sometimes. I have to fight to keep from getting frustrated." Then she remembers she wasn't supposed to be talking to a reporter in her Pender home last week or telling a photographer that she hoped she didn't look too fat or too skinny in his photos."Being alive and knowing I'm alive. How long do I get? I don't know," she said.
Cancer
The trouble began in 1993 when the now-55-year-old Smith was diagnosed with breast cancer. She was a nursing student at the time. The diagnosis wasn't a surprise, though. "My mother had died of breast cancer three years before I found my lump," she said. Her mother, Betty Croom, died at the age of 41, Smith said. She got through a lumpectomy and radiation treatment. Then, 10 years later, she started having strange pain between her shoulder blades.
First heart failure
Multiple tests, doctor visits and X-rays in February 2003 at first couldn't find what was wrong with Smith, whose condition worsened over the course of a week. Doctors suspected her cancer had returned or possibly lung issues. They even suspected that Smith, who had given birth to the third of three sons three months earlier, was experiencing postpartum issues. It turned out she had gone into congestive heart failure. Her heart had grown so large that it appeared blurry on X-rays, resulting in the missed diagnoses.
By the end of that week, she was in the emergency room after doctors finally found what was wrong with her -- that her heart was functioning at one-sixth of its normal rate. "No blood was really moving," she said. "I was literally fighting for my life." Her skin had turned gray. Her lips were black. She said doctors told her husband, Ben, to kiss her goodbye for the last time because the medicine and machines might not save her life.She said it was hours later when she heard a "whoosh" and "when I did, I literally felt great."
"I was singing a hymn because I was so happy," said Smith, who is devoutly religious and said she believed God intervened to save her several times. "All the crazy stuff we worry about and the petty things, I just wasn't worried about them. It was like life breathed back into me."She was discharged from the hospital three days later, she said, only to find herself poked and prodded by doctors again a few months later.
Cancer again
"On October fourth (of 2003), I found another lump," she said. "I tried to ignore it for a few weeks."The diagnosis of a new cancer came shortly after she buried her father, who died "right before I found the lump."She had a double mastectomy and rounds of chemotherapy, she said."2003 was hard," she said. "By the time you recover from something, whammo."She has been cancer free since then, she said, but the rounds of chemotherapy did further damage to her heart that would rear its head 11 years later.
First heart
Between threats to her life, she took up competitive horse riding and now has four horses.About 10 years ago, doctors allowed her to wean off heart medication, which she said kept her lethargic. "I needed more juice," she said. She was at a horse show in July 2014 when she started feeling nauseated and decided to leave the show -- something she said she'd never done in her years of competitive riding. "I got home," she said. "The next day, I started having bad trouble. I went to the hospital. My heart was failing again."
She was placed on a list for a transplant at Duke University Hospital in Durham. On a Sunday, her husband received a call from a cardiologist who said he happened to review her chart. They were told to get her to Duke that day. "I went into cardiac shock the next day," she said. She again believed some kind of divine intervention happened. "What doctor on a Sunday is going to just pick up somebody's chart like that?" she said. After a battery of tests to ensure her body could handle the transplant, she received a new heart later that month. Even though it was damaged, doctors determined it was in better shape than her original heart and implanted it. She would be in the hospital for months, much of it in an induced coma.
Another heart
She would "die" several times while waiting for her second transplant, including once where her heart stopped for 20 minutes. When she flatlined, a doctor who "happened to be walking by in the hallway" opened her incision and squeezed her heart until she could be revived. "That's another one of those God things," she said of the chance that a doctor was nearby when her heart stopped. She then received her second transplant in January 2016, which her body accepted easily. "I was home in 14 days," she said. "My body just began to work."
Leaning on family
Smith said her husband, who is a dentist, "has been a solid gold rock. He had to learn how to be a mommy and a daddy." But because her husband needed to work, her eldest son, Cameron, who is now 21, became her caregiver, carrying her "dead weight" around their home and helping her in every way possible. These chores were in addition to attending classes and working a part-time job, she said. "I don't know how he did it," she said.
No fear of death
Smith said she doesn't fear the end after a series of near-death experiences left her with memories of what she said she experienced. She said she once went to a room filled with everyone whose lives she had touched before they died and she was given a piece of fruit -- sweet, juicy and unlike anything she'd seen before. Another time, she said she met her parents inside a ring of "tall warrior figures" protecting them from storms. "I have vivid recollections," she said. "Time is just not time there." She said she felt like she was given the choice to stay or go back to her life and "there was no wrong answer." "The party is a life celebration. All you can feel is gratitude and appreciation," she said.