Jane Seymour Recalls Near-Death Experience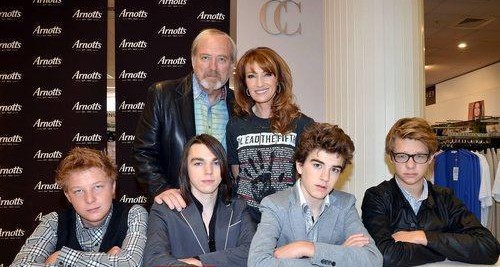 Jane Seymour with her husband James Keach and son Johnny Keach with Johnny's band Plead the Fifth.
October 2, 2011 From [contactmusic.com/news]. Former Bond girl Jane Seymour remembers an out-of-body-experience as she was fighting for her life during a health scare in Europe. The British actress was in Spain shooting her role as soprano Maria Callas in 1988 movie Onassis: The Richest Man in the World when she fell ill - and her treatment at a local medical centre took a turn for the worse. Seymour believes that during the near-death experience, she floated out of her body and saw doctors administering treatment.
She tells Britain's Sunday Express,"I was filming in Madrid when I got a very bad cold. A doctor suggested a shot of antibiotics but unfortunately the nurse put a massive dose into a vein and I went into anaphylactic shock. "Mercifully I was resuscitated but there was a period where I left my body and clearly saw this man screaming on the telephone and my naked body lying on the bed with syringes in my backside."

Read more about Jane's NDE from [friendsofjane.com] Excerpt here - I literally left my body. I had this feeling that I could see myself on the bed, with people grouped around me. I remember them all trying to resuscitate me. I was above them, in the corner of the room looking down. I saw people putting needles in me, trying to hold me down, doing things. I remember my whole life flashing before my eyes, but I wasn't thinking about winning Emmys or anything like that. The only thing I cared about was that I wanted to live because I did not want anyone else looking after my children.